Where To Get Discounts On Halloween Candy This Year
(Photo Credit: Getty Images)
Amazon
Huge Assorted Candy Party Mix Box (6.25 lbs), $36 – Includes all your kids' favorite fruity treats, like Sour Patch Kids, Skittles, Twizzlers, Jolly Ranchers and more.
Nestle Chocolate Assorted Minis Bag (40-ounces) $10 – Includes 100 pieces of Butterfinger, Nestle Crunch and Baby Ruth.
Halloween Assorted Candy Party Mix (90-ounces), $38 – A whopping 200 pieces of Twizzlers, Nerds, Swedish Fish, Sour Patch Kids and Skittles.
AirHeads Bars Variety Pack (90-Count Box ), $12 - Includes 38 to 40 mini-Airheads in flavors like cherry, orange, blue raspberry and watermelon.
Walmart
Hershey Halloween Candy Snack Size Assortment, (91 Ounces), $20 - 315 miniatures of Reese's, Kit Kat, Twizzlers, Jolly Rancher Stix, Jolly Rancher Lollipops and Whoppers. Yum!
Fun Size Halloween Candy Grab Bag (3 92-Piece Bags), $15 – Features Life Savers, Skittles, Starburst and Hubba Bubba.
Smarties Candy Rolls (5 Pounds), $24 - What can be wrong with five-pounds of sugary goodness.
Dollar General
Tootsie Roll Pops (7.8 Ounces), $2 – Keep kids busy trying to get to the center of a Tootsie pop.
Brach's Halloween Candy Kiddie Mix, $5 – Filled with classics like Now and Later, Warheads, Chewy Lemonheads and Super Bubble.
Target
Albanese Fruit Flavored Gummy Worms (5 Pounds), $20 – Perfect to creep out guests at your Halloween party.
Laffy Taffy, Bottle Caps, SweeTarts and Nerds Halloween Variety Bag (200 pieces), $10
Reese's Pieces Peanut Butter Candy, $37 – No kid, or adult, would be unhappy getting a Reese's
Sam's Club
Utz Halloween Pretzel Treat Barrels (140 Bags), $15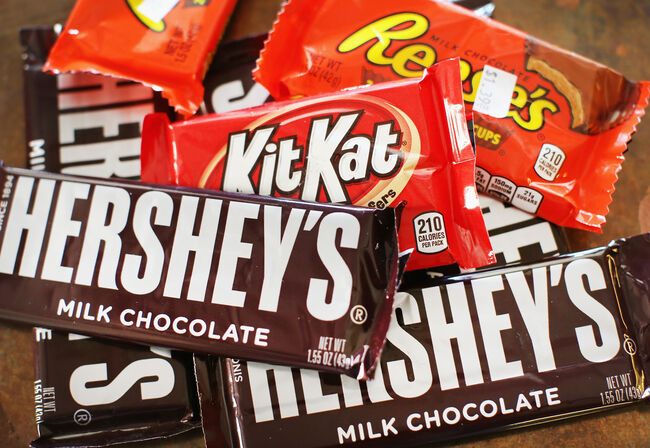 Dan Zuko
Want to know more about Dan Zuko? Get their official bio, social pages & articles on 92.3 WCOL!
Read more