CMT's Katie Cook Releases New Single With 'Sun Kat' Band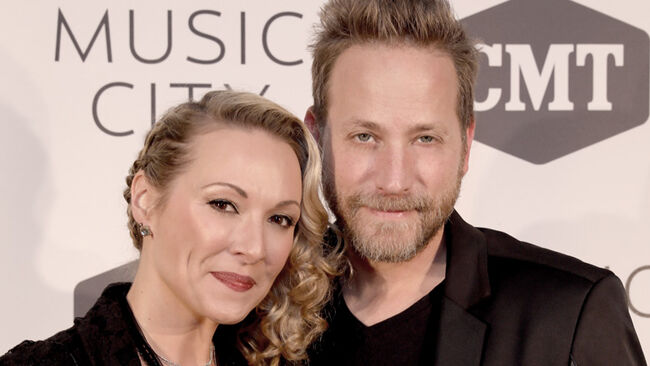 CMT's very own, Katie Cook is very busy! She's often seen burning up the Hot 20 Countdown, or cheerleading for country music's up and coming artists, but did you know that she moonlights in her own band?
Katie has been involved with creating music her whole life and comes from a long legacy of songwriters. Her husband Adam Shoenfeld has been playing alongside legendary acts professionally for years making 'Sun Kat' a natural fit for their family.
Sun Kat has released their first single, entitled "Hey Jo Jo" but this release is different and tells an extraordinary and personal story for the couple. Katie's sister JoAnn, fondly called JoJo by her friends and family, was born with special needs and one group of people stepped in to help right away. That company was none other than The ARC.
Just shy of her 54th birthday, Katie's sister passed away. JoJo was known for being "the glue holding us together." Katie was crushed.
The week after Jo Jo's services, Katie experienced a vivid and very realistic dream. She was visiting with her sister and remembers how happy she was. "She looked amazing and was smiling!" Katie knew it was a sign from her sister that she was OK.
Katie woke her husband Adam, told him the story and within an hour "Hey Jo Jo" was written.
The song is fun, upbeat, and has an upbeat 70's vibe that's infectious. Just like Katie's sister would have love. Katie and Adam have made a crucial decision to release their first official single, extraordinarily.
They are paying it forward by donating all funds raised to the charity that helped them over the years.
"We just wanted to find a way to make this song a gift for others. So, starting now, til next year we are giving away the downloads, all of it, to the ARC," says Katie in an interview with Cody Alan.
Sun Kat will perform their song at The ARC upcoming national conference.
The ARC supports people with mental handicaps to build life skills, they also offer support services to the families providing them with information, family advocacy, and behavior support. Please consider making a donation directly or downloading "Hey Jo Jo" available now via iTunes and can be found at www.sunkatmusic.com.
Photo Credit: Getty Images.