Find The Most Popular Halloween Candy the Year You Were Born
(Photo Credit: Getty Images)
Delish did some investigating just in time for Halloween. These are the candys that were popular each year during Halloween. Some even repeated!
Find your birth year here out of some of the highlighted years: You can find every year HERE
1960: Swedish Fish - These chewy candies really caught on in the 60s.
1962: Now and Later

- The candy all dentists hate.
1963: Sweet Tarts
1966: 100 Grand Bar
1967: Starburst - They launched in the U.K. in the 60s and became a favorite when they hit the states in '67.
1969: Fruit Stripe Gum
1971: Laffy Taffy

- The jokes on the wrappers made this a Halloween favorite.
1973: Blow Pops- A hit then and a hit NOW
1975: Pop Rocks - They said it would make your stomach explode.
1977: Tootsie Roll -

They had a catchy jingle back then and this was their big moment.
1979: Twix- This was the year they were introduced to the U.S.
1980: Big League Chew - This pouch of gum was a huge hit when it came out in 1980.
1981: Jelly Belly

- One of President Reagan's favorite
1982: Reese's Pieces - This is the year "E.T." came out featuring the new-ish candy.
1985: Sour Patch Kids

- Coming out at the height of Cabbage Patch Kids mania helped this candy become super popular.
1987: Air Heads - This new candy was an instant hit.
1988: Push Pops- The year they were introduced so everyone wanted them!
1990: Hershey's Bars

- The classic chocolate bar was big this year.
1992: Dove Chocolate Bars
1993: Hershey's Cookies 'N' Creme Bars - This one was a game-changer and people loved it.
1994: Air Heads
1996: Gummies

- All kinds of gummy treats were popular that year for some reason.
1998: Baby Bottle Pops-These were popular for 6 months straight!
1999: Jolly Rancher Lollipops - Next-level love for fans of the fruity candy.
2002: M&Ms

- Maybe it was the introduction of purple M&Ms that made these a favorite in 2002.
2004: Candy Corn - Classic favorite
2005: Lollipops- Cheapest candy at the time
2006: Milk Duds
2007: Candy Corn (AGAIN!)
2008: Gummy Bears- The year of the Gummy Bear
2009: Milky Way
2010: Snickers
2011: Double Bubble Panterz Mouth Coloring Bubble Gum- Halloween specific candy
2012: Kit Kats
2013: Butterfinger- This was the year Bart Simpson and Butterfinger partnered up
2014: M&M's
2015: Hershey Candy Corn Candy Bar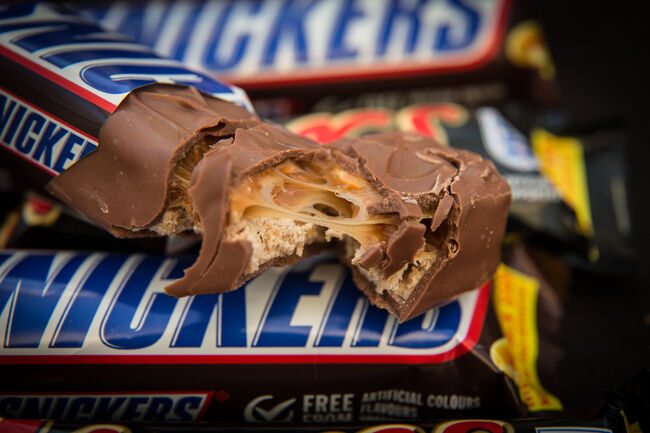 Kayla Hanley
Want to know more about Kayla Hanley? Get their official bio, social pages & articles on 92.3 WCOL!
Read more